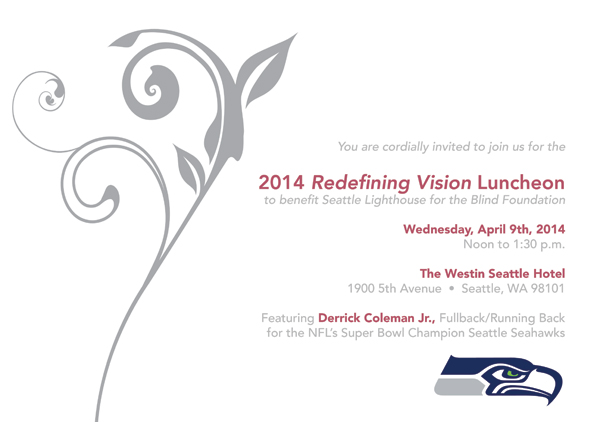 Wednesday, April 9th, 2014, Noon to 1:30 p.m. (VIP Meet & Greet from 11:00 to 11:30 a.m.)
The Westin Seattle Hotel | 1900 5th Avenue | Seattle, WA 98101 [map]
Join Seattle Lighthouse for the Blind Foundation to support and celebrate our mission of creating and enhancing opportunities for independence and self-sufficiency of people who are blind, Deaf-Blind, and blind with other disabilities.
A donation of $150 per person will be suggested.  For an additional $150, guests may participate in a VIP Meet & Greet w/ Derrick Coleman Jr. from 11:00-11:30 a.m. prior to the event.
For more information on hosting a table or attending contact Andrea Travis at 206-436-2253 or atravis@seattlelh.org.
2014 Redefining Vision Luncheon