By David Garten CFP®, Sr. Vice President & Sr. Trust Officer, Northern Trust
and Seattle Lighthouse for the Blind Foundation Vice President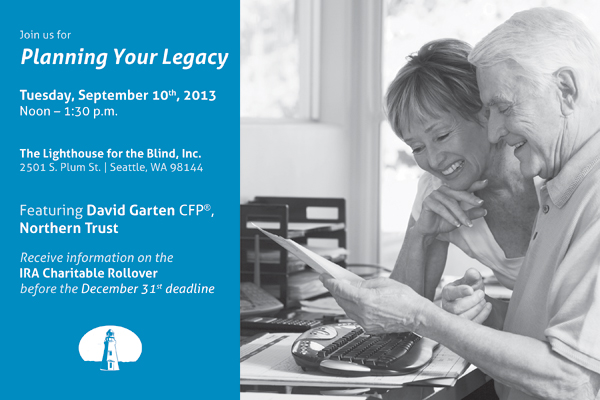 Tuesday, September 10, 2013
The Lighthouse for the Blind, Inc.
2501 S. Plum St. | Seattle, WA 98144
10:30 a.m. to Noon (optional tour of Seattle Lighthouse)
Noon to 1:30 p.m. (Lunch and Presentation)
There is no cost for this presentation – just your RSVP is required.
To RSVP enter your info below, or contact Kirk Laughlin in our Development office at 206-436-2253, or via e-mail at klaughlin@seattlelh.org.
The Seattle Lighthouse for the Blind Foundation invites you our upcoming opportunity to learn about Planned Giving options and their benefits.
As a supporter of the Lighthouse, you might be making our work possible through generous annual donations. Members of the Lighthouse Legacy Society make a commitment to ensure that the Lighthouse can serve its mission in the future by naming the Lighthouse as a beneficiary in their estate plans, most often by including the organization in their will.
We invite you to learn about additional Planned Giving options, including bequests and the IRA Charitable Rollover, at Planning Your Legacy.
About the Speaker and Presentation
Dave Garten is a Certified Financial Planner (CFP®), Senior Vice President and Senior Trust Officer with Northern Trust. He is also Vice President and Major Gifts & Planned Giving Chair for Seattle Lighthouse for the Blind Foundation. Mr. Garten will provide an insightful overview of these options and current market trends.
This timely information will include details on the Charitable IRA Rollover, which has a deadline of December 31st.
We hope you'll join us for this presentation and lunch from noon to 1:30 p.m. You also have the option of attending a tour of Seattle Lighthouse immediately before the presentation from 10:30 a.m. to noon.