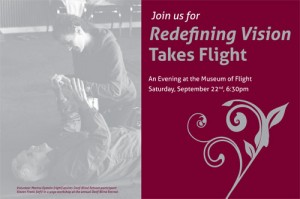 Your generous support through Seattle Lighthouse for the Blind Foundation's Redefining Vision events make it possible for The Lighthouse for the Blind, Inc. to create and support 220 positions for individuals who are blind, Deaf-Blind, or blind with other disabilities.
Our fall Redefining Vision Takes Flight event is being held at the Museum of Flight's historic Red Barn to highlight the long relationship between The Lighthouse for the Blind, Inc. and The Boeing Company.  The Museum of Flight is one of the largest air and space museums in the world, attracting more than 400,000 visitors annually. The Museum's collection includes more than 150 historically significant air- and spacecraft, as well as the Red Barn®—the original manufacturing facility of The Boeing Co.
There is a lot of free parking and the Museum is directly accessible by Metro. See the map and directions information at www.museumofflight.org/directions. More information about the Museum is available at www.museumofflight.org.
Confirmed attendees of Redefining Vision Takes Flight are welcome to tour the Museum during the day on September 22nd during its regular hours from 10 a.m. to 5 p.m. You may also sign up for a docent-guided tour from 5 p.m. to 6 p.m. that day when you register.
Guests will be guided into the Red Barn for the event at 6:30 p.m.
The evening will include demonstrations on how the Lighthouse makes its jobs accessible and a short presentation highlighting an employee.
We'll serve a selection of red and white wines and McCormick and Schmick's will serve an array of heavy hors d'oeuvres, such as:
Seafood and Artichoke Dips, Fresh Market Vegetables, Chicken Satay, Wild Mushroom, Cheese Tortellini, Roasted Salmon, Carved Sirloin Strips, Northwest & Imported Cheeses, Warm Dungeness Crab & Artichoke Dip
To register for Redefining Vision Takes Flight, fill in the information below. You may make payment through PayPal or request to be invoiced later. If you have any questions or to RSVP by phone, call Kirk Laughlin at 206-436-2253 or email klaughlin@seattlelh.org.
Redefining Vision Takes Flight