Our annual Redefining Vision Garden Party on Thursday, August 17th was a night to remember! We welcomed175 guests to the Ethel L. Dupar Fragrant Garden and raised over $20,000 for the Lighthouse's Employee and Community Services programs! Thank you to everyone who attended and made this night so special!
The Ethel L. Dupar's Fragrant Garden was established in 1973 and is designed specifically for our employees who are blind, DeafBlind, and blind with other disabilities. Within this secret oasis, you'll find an abundance of beautiful fragrant plants that appeal both to the sense of smell and touch. Access to the fragrant garden is one of the many ways that The Lighthouse for the Blind, Inc. provides supportive experiences, training, and accessibility for our employees.
During the evening guests had the chance to learn about adaptive technology, and how our Accessibility Program provides the necessary equipment, human support, information, technology and training for employees to be successful at work. Guests also learned about safe travel and how employees navigate independently using white canes from Lighthouse's Orientation and Mobility instructors.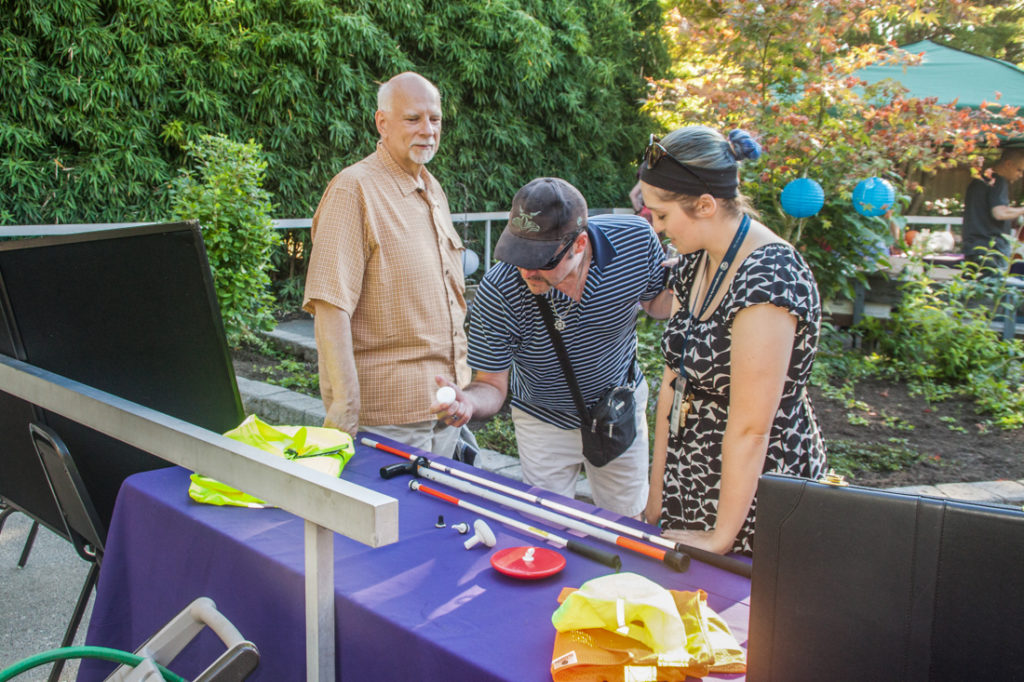 Throughout the Garden Party guests mingled with employees, friends, family, community members and long-time Lighthouse supporters while enjoying delicious food, drinks, and music in the garden. The big hit of the evening was the silent auction! We had 19 different prize packages featuring tickets to Seattle Seahawks, Seattle Mariners, and Seattle Sounders FC games, along with gift cards to local restaurants, vacation get-a-ways, Boeing model planes, Microsoft Office products, handcrafted wooden planters, bowls, pens, and bottle stopper, and so much more. Thank you to all of our in-kind donors who made our silent auction possible!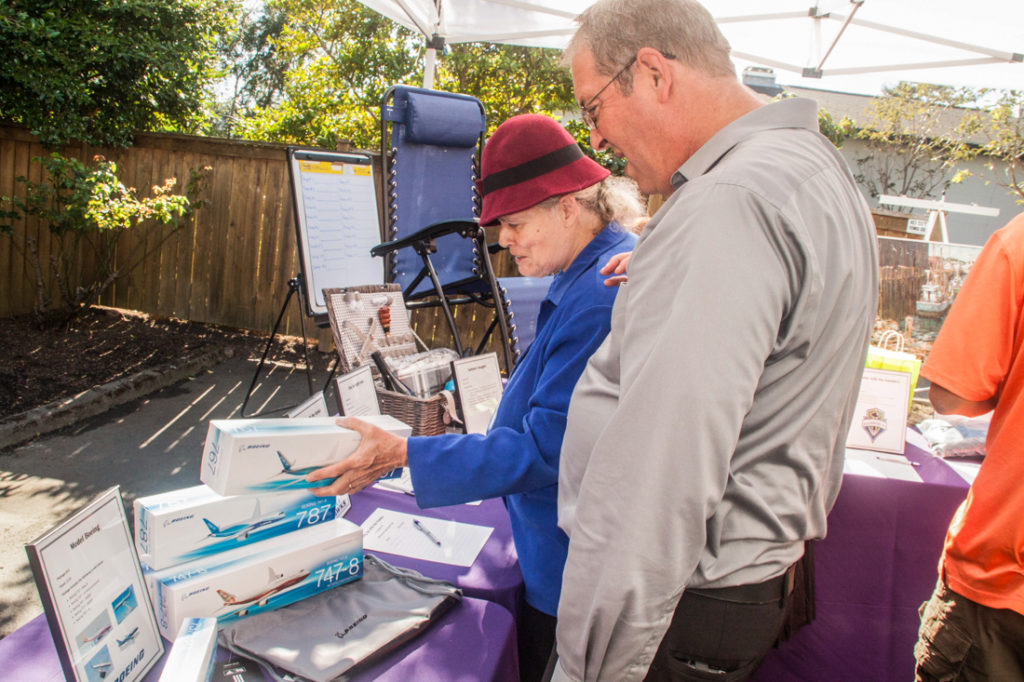 The highlight of the party was hearing from Production Worker Melinda Slovernick, who shared her personal story of losing part of her vision after she was involved in a severe car accident leaving her in a coma for three months. Guests were inspired by her determination and spirit. Thanks to the generosity of the community the Lighthouse continues to support employees like Melinda and provide opportunities to learn new skills, gain experience, and develop the confidence necessary to be successful in the workplace, their personal lives, and communities.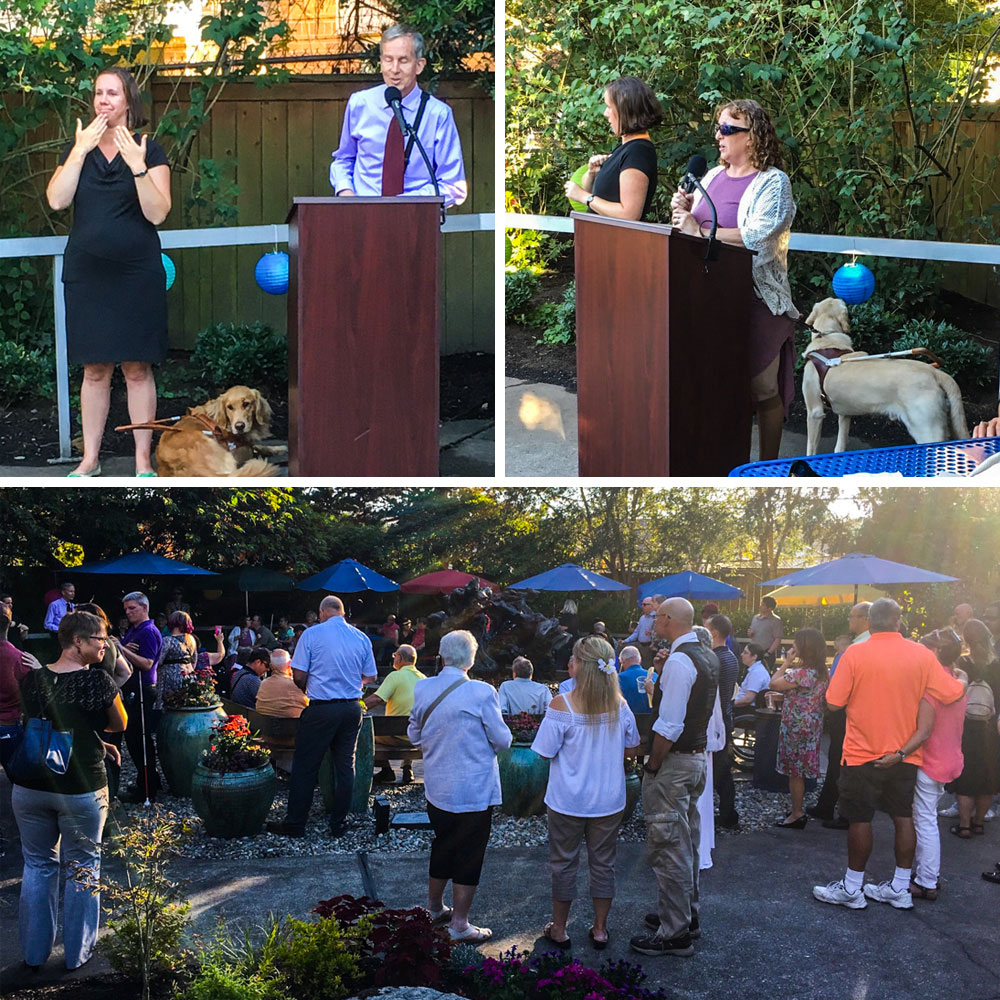 You can continue to make an impact in their lives by making a donation today to support opportunities for employment, independence, and self-sufficiency for individuals who are blind, DeafBlind, and blind with other disabilities.
If you were unable to attend, we have another great opportunity to learn more about our history and mission, please join us for our Blue Friday presentation of our "Get to Know the Lighthouse" event series, on Friday, September 8th, 2017 from 1:00 p.m. – 2:30 p.m. at the Lighthouse. Please RSVP to Cindy Van Winkle at (206) 436-2264 or cvanwinkle@seattlelh.org.
Thank you to everyone who has made an impact at The Lighthouse for the Blind, Inc. this year! With your support we are making a difference for individuals who are blind, DeafBlind, and blind with other disabilities in our community.
SaveSave
SaveSave